"Simba successfully met criteria set out by a well-known local drug store chain in Philippines."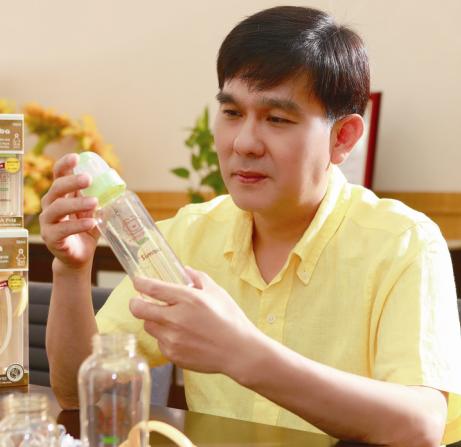 Member:
Marc Huang
Company:
SONISON BABY PRODUCTS CO., LTD.
Location:
Taiwan
Industry:
Baby Supplies & Products
Gold Supplier member since:
2010
Website:
http://sonison.en.alibaba.com

Sonison Baby Products Co., Ltd. has created brand 'Simba', which operates through the Alibaba platform utilizing the 'fade in' strategy. They put only 5 of their unique best-selling (with granted patent) products on the webpage, and create themes for each product with images or video. This emphasizes the company spirit through their brand 'To meet requirements, quality and taste expected by parents with new children, so they can grow healthily in an affectionate and safe environment.'
Jiao Quan, Wang, the CMO of Sonison, claimed, 'Our webpage would have been confusing and disorderly if we had put our 400 to 500 Simba products online and even categorized them. Therefore, it is better to focus on the unique products, and create themes for each product, which can raise their value. Sonison elaborately establishes the business online shop by zooming in and out in order to broaden the product line. The buyers are always surprised at the complete product line when they click the button through Alibaba.
Sonison's venture into online shopping has brought positive effects. Buyers and distributors from Southeast Asia fly to Taiwan one after another to inspect the products personally and look for cooperation. A distributor from Malaysia has placed Simba baby products in mid to high range price band, which sells in the department stores. This has enhanced sales. The buyers from the Philippines market the products in local well-known drug store chain, which has helped to create Sonison's dominance of baby products market.
Jiao Quan, Wang shares his experience, 'Simba's sales volume is fantastic in Philippines, and successfully met criteria set out by a well-known local drug store chain. The local drug store chain tried to market the first Sonison's products within their top 10 and bottom 10 branches. As a result, Simba had exceeded expectations by having high sales in all 20 branches. After that result, Simba has been integrated into all stores.'
Sonison's business practice of themes helps to identify buyers that tend to become brand agents whilst deterring bargain hunters. For example, there is an Israel based company that was so impressed with Sonison's abilities of production and design that they have placed the orders as an ODM.
After opening the market in the Middle East and Far East, Sonison's next step is to move forward to the main market- EU and US. Jiao Quan, Wang said, 'With our business experience for 20 years, we can assert that our quality can compete with the worldwide known brands. In addition, our competitive prices reflect good value for money because the profit margin is not set high. We are confident that with our affordable luxury products and services, we can assist the consumers (parents) in the EU and US to take care of their beloved babies with economical but high quality baby products.