"Because of Alibaba, we can stand on the shoulders of a giant, we can see further, and broader; Our exposure rate has greatly increased."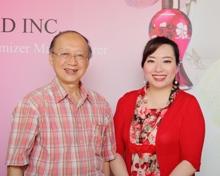 Member:
Christine Liu
Company:
WELL LORD INC.
Location:
Taiwan
Industry:
Gifts & Crafts
Gold Supplier member since:
2009
Website:
http://welllord.en.alibaba.com

"Elizabeth Taylor's White Diamonds", "Curious Perfume by Britney Spears", "limited edition Sensuous perfume by Estee Lauder", "Hello Kitty's Girl / Baby Perfume"— In the perfume world, there are fragrances which have remained celebrity bestsellers for 20 years. There are also fragrances targeting the youth pop culture, as well as limited edition ranges for special occasions. One more range targets the full social spectrum by mixing nostalgia within the modern themed collection suitable for all ages. However, there is something indispensible for each fragrance dispenser which is the "perfume atomizer" produced by Well Lord Inc.
In order to develop their market, the internet is undoubtedly the most economical method. In the first beginning, 'Well Lord' applied for the free membership of Alibaba with conservative attitude. Surprisingly, they received a large number of inquiries for prices and samples, which was beyond their expectations. Thus, 'Well Lord' decided to join the Gold supplier membership and take seriously the operation of the e-business platform.
The clients from the Middle East are 'Well Lord's' first substantial buyers due to their huge demand for fragrance. Christine Liu, the Sales and Marketing Director of 'Well Lord' discovered that although the initial sales in Bahrain and Dubai stemmed from the local population, the development of tourism from western countries has exposed the existing buyers to new fragrances and alternative ways of packaging, which has fueled a huge demand for fragrance packaging material. The buyers from the Middle East require a similar style of well-known brands from the EU and US.
There is a story where a buyer from the Middle East found some fragrance packaging material from an UK fragrance store, the buyer then contacted 'Well Lord' to find out whether they have the same atomizer and bottle. Surprisingly, they were told by 'Well Lord' that the atomizer and bottle were produced by them. Well Lord has adapted the new designs for new clients in order to maintain the exclusive use of brand customers.
Well Lord has learned the basic technique in e-business marketing since they joined Alibaba Golden supplier membership 3 years ago. For example, in order to make it easy for buyers to find their various products, Well Lord has learned to set up many keywords, and reply to inquiries and messages in 24 hours.
'It is an essential procedure of learning and growing,' said Christine Liu, 'In particular, we increased the number of keywords through "Pay for Performace" Service in Alibaba. With the increase exposure rate of our company and products, the inquiries from buyers have become more frequent.' After their adjustment of the online shop design and the interaction with buyers, Well Lord is confident that the growth of profit contribution from internet buyers (not brand clients) will raise from one-digit to 24% in 2011.
Christine Liu assets, 'Because of Alibaba, we can stand on the shoulders of a giant, we can see further, and broader. Our exposure rate has greatly increased. We will never put all our eggs in the same basket because we have new avenues of increasing the profit, and decreasing the risk.'